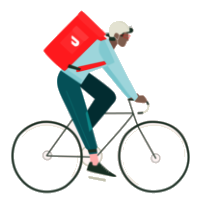 I need to access my paystubs. What do I do?
Note: Truework cannot help you access your paystubs. To receive proof of payments you have received from DoorDash, follow the instructions here: How can I receive proof of payment history?
If you have additional questions, please contact Dasher Support.
I am applying for a loan. How do I verify my income?
When you apply for a loan or something similar (eg. a mortgage, or a credit card), the institution you are applying to will need to verify your information.
It is important that you do not verify the information yourself. Your lender will only accept information that comes to them directly from Truework.
Your lender should submit their request to verify your income here: Employment Verification for Doordash. You can learn more about what to expect here:
What is a verification of income (VOI) and employment (VOE)?
There are a number of instances in which you may need to VOE or a VOI. In all of these instances, the process involves a third-party that needs to confirm your income and employment background. Some examples include:
When you are applying for a mortgage
When you are applying for a loan
An application for credit
A background check for a new job
I'm having trouble connecting my payroll
You can find instructions on what to expect when connecting to your payroll here:
Where can I find my tax information?
Truework does not have access to Dasher tax information. For detailed instructions on Dasher taxes, visit this Help Desk article: Dasher Guide to Taxes.