Why does Truework automatically cancel requests after 14 days?
Truework completes 98% of all requests before 14 days. After 14 days we have seen that there is not a viable path to complete the request. Reasons for this can be anything from an unresponsive HR, team to a different provider having the data, or even using incorrect information that you may have provided at time of submission. For tips and tricks to ensure a faster turnaround time, see here.
How will I be notified that Truework has automatically canceled a request?
Truework sends an email notification whenever a request is cancelled. Additionally, you can review all cancelled requests by filtering for them on your Truework Dashboard under the Requests section. Whenever possible, we provide additional context on our cancellation under the Request Status tab. Before cancelling, we send a 7 day reminder and give you the option to cancel.

Request Summary View

Request Status Detail
Why does Truework send a notification at the 7 day mark?
We want to alert you of our progress and that we will be attempting to complete this request for one more week, while also giving you the option to cancel the request yourself. After the second week, the request will be automatically canceled and the card on file will not be charged.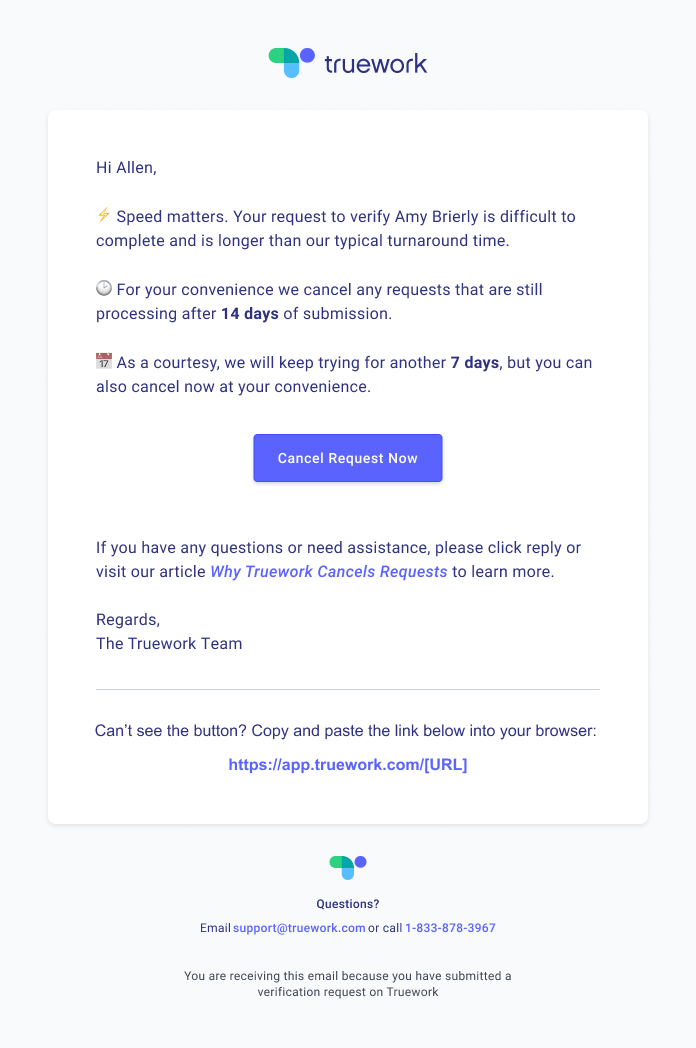 E-mail reminder
Can I cancel before the 14 day window?
Yes! You are able to cancel any request after it has been in our system for 48 hours. See how here.
If you have any questions or would like to provide us with more information that may help us complete your requests faster, please reach out to our support team at support@truework.com or 1-833-878-3967.